NEWS
INDEX:
---
Customers Come First at Epcor Foundry!
Now more than ever, customers require a casting supplier to:
Lower costs by reducing part complexity.
Provide the lowest total cost US-sourced castings.
Offer the best solution for shortest production readiness lead times to help you win new programs.
Maintain supply to your customers on current (transfer) projects.
We are here to help YOU!!
Please contact us to discuss your specific needs.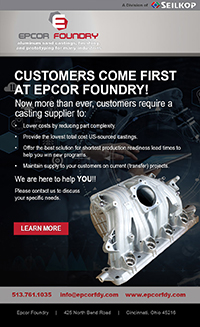 ---
We Turn Design Challenges into Opportunities
As an experienced global leader in aluminum casting technology – we've tackled the projects that others shy away from while maintaining quality
What is the Epcor Advantage?
Lower costs by reducing part complexity
Optimize process parameters utilizing simulation software
Provide the lowest total cost US sourced castings
Shortest production readiness lead times to help you win new programs
Work in conjunction with our sister company, Hitech Shapes Designs, to assure uninterrupted casting supply on transfer programs
Our precision craftmanship for complex and highly cored leak-tight aluminum castings gives you the competitive advantage you need.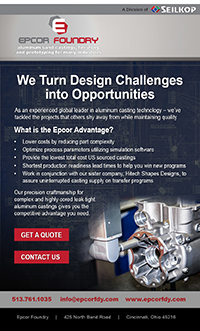 ---
Tell Us About Your Casting Challenges.
We Have the Solutions.
While many of you are working from home, we are here to help you with your new casting designs. The Epcor engineering team is here to provide solutions for some of your toughest challenges. Whether you need a second look at a complex aluminum casting or are looking to redesign an existing part - we can help.
While businesses are being disrupted globally, we can help you make the most of a slower period.
American Made, Globally Trusted
Thank you for your business and partnership and we look forward to assisting you through these unprecedented times.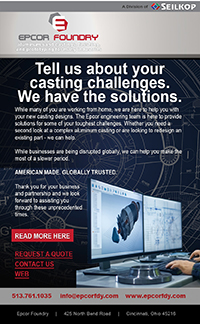 ---
CHARGING UP PRODUCTION
Epcor expands its production footprint in the Electric Vehicle segment. Let us work with you to expand your Electric Vehicle market share.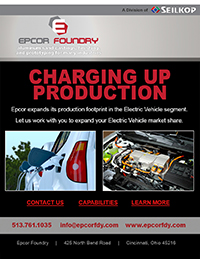 ---
AMERICAN MADE.
GLOBALLY TRUSTED.
At Epcor, we turn design challenges into opportunities. Our precision craftsmanship especially for complex and highly cored leak-tight aluminum castings is a skill that few can emulate. As we enter 2020, we will use our design and engineering skills to give you the competitive advantage you need for the highest performing aluminum parts.
We are your foundry of the future.

Happy New Year,
Dave Seilkop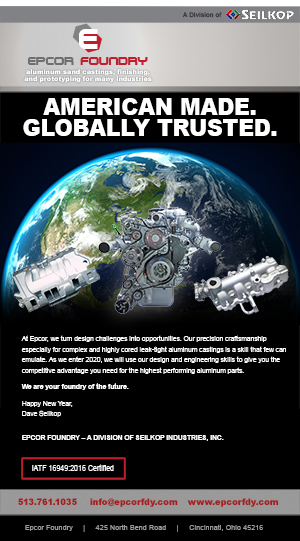 ---
We Wish You A wonderful Holiday Season!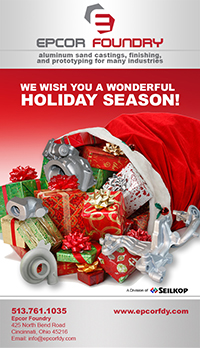 ---
Midwest Design-2-Part Show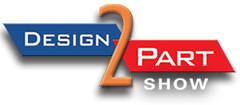 Visit Epcor Foundry & Seilkop Divisions at Booth #506
Midwest Design-2-Part Show
November 6 & 7, 2019
Indiana Convention Center • Indianapolis, IN
Free Registration: Click Here
---
Transferred Tooling & On-Time Delivery is not an Oxymoron
Epcor has an exceptional history of maintaining casting supply when tooling is transferred to us. Our integrated quality driven processes include an in-house tooling facility and adapter plates which allow your patterns to seamlessly fit our machines.
Epcor Foundry is ready to help you maintain an uninterrupted supply of castings to keep your productions lines running. Our diverse background, years of experience in tooling transfers, and strong history of financial stability are here to support you.
In-House Tooling
Robotic Automation
High Speed Molding
DISA & Sinto Machines
CNC Finishing
Rapid Prototyping
ISO/IATF 16949:2006 Certified
Medium to High Volume Production
Stop accepting "firm maybes" from your current supplier regarding on-time deliveries.
When reliability counts, accept nothing less.
Epcor has an exceptional history of maintaining casting supply when tooling is transferred to us. Our integrated quality driven processes include an in-house tooling facility and adapter plates which allow your patterns to seamlessly fit our machines.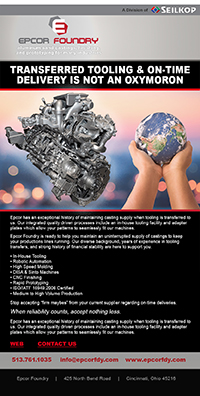 ---
Driving Production Forward With Advanced Technology to Deliver Highest Quality Castings
Challenge:
Designing a casting to meet your first time throughput requirements—out of the gate.
Process:
Epcor's Engineering Team examines your casting with advanced simulation software to both guarantee results and craft out-of-the-box design solutions.
Result:
Shorter launch lead times, and better long-lasting casting.
Additionally, significant reductions in both internal scrap rates at Epcor Foundry as well as a reduction of external scrap at the customer are being realized.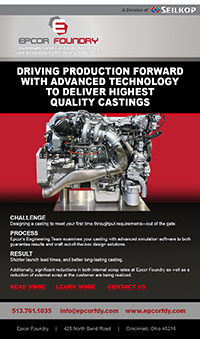 ---
The Seal of Quality
Epcor is your team for fresh thinking. We challenge existing assumptions and then put our technology and processes to succeed where others fail.
Below is another example of our aluminum casting breakthroughs.
Challenge
OEM automotive company was plagued by housing components that failed due to leakage.
Epcor Solution
Step 1: We used simulation sofware to correct areas that had been causing problems.
Step 2: Our engineering team designed new tooling to cast a chill into the rotor core – allowing heavy sections to solidify without shrink prorosity.
Result:
Epcor eliminated leaking – 100%!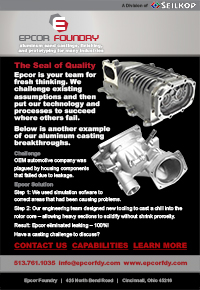 ---
Foundry Robotic Systems
The harsh work environment in the foundry is like no other. It is exactly that demanding environment that has positioned foundries to be on the leading edge of robotic automation.  All foundries contend with high temperatures and the inherent issues associated with pouring metal. Robots handle this in a repeatable fashion that makes the foundry more efficient, safer, and unfazed by the heat seen in production.
At Epcor, the benefits for adding robotic automation were considerable:
Improved uptime on the production line
Created a safer work environment
Unmatched pouring consistency and accuracy
Improved molding rates
Robotic automation also provides us with the flexibility to change – as your part requirements change.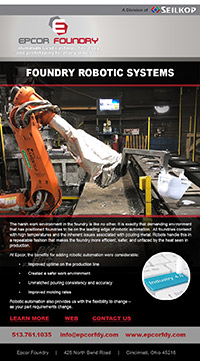 ---
HAPPY NEW YEAR!
Now is a great time to look at bringing your castings back to the U.S.!
Have a question about reshoring aluminum casting work? Allow Epcor to show you our precision craftsmanship, especially for complex and highly cored leak-tight castings, used in several industries including automotive.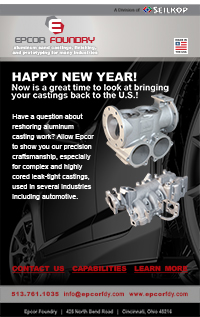 ---
We hope you have a wonderful Holiday Season!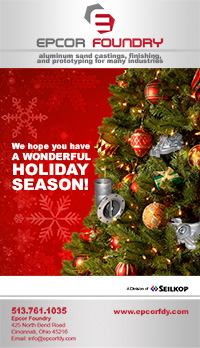 ---
Epcor for Faster Casting Delivery
Todays customer expect programs to be launched faster than ever!
do you need castings sooner?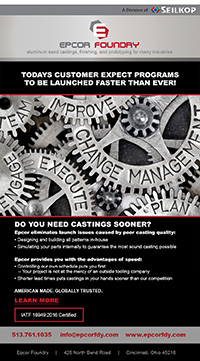 ---
WELCOME TO EPCOR FOUNDRY
When working with Epcor, you will experience a worry-free partnership from start to finish on new launches or transfer projects.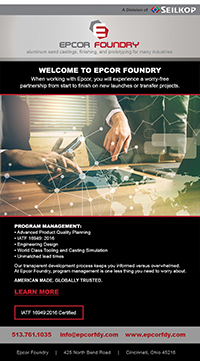 ---
Complex High-Performance Aluminum Castings for the Automotive Industry
As the number of automobiles increases, manufacturers of aluminum parts will be called upon to make more complex high-tech lightweight parts to increase safety and last longer. For this industry, aluminum builds better vehicles. The importance of aluminum in commercial vehicles and cars is increasing due to the many industry advantages. While most people emphasize the lightweight benefits for increasing fuel economy and reducing emissions, we like to also point out that castings made from aluminum can be amazingly complex while also being cost-effective, strong and very durable. Look for more aluminum in each vehicle in the future, including the structure.
Click Here to read the full article.

Click Here to download the PDF.
---
THE POWER OF ONE
The highest quality for machined castings happens when precision processes are performed under one roof.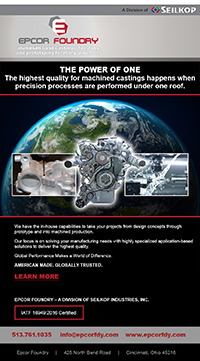 ---
Epcor Foundry announces National Sales Executive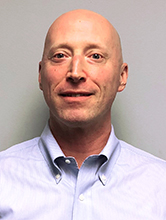 Epcor Foundry, a division of Seilkop Industries, Inc., recently announced Jeffrey A. Miller as National Sales Executive, effective immediately.
For the past twenty-three years, Jeff Miller has held key management positions in casting and machining sales and is highly experienced working with our nation's largest users of automotive and truck parts.
In this position, Miller will be responsible for account management, equipment quotations, and developing metal casting solutions.
"Jeff is a seasoned manufacturing and sales professional focused on developing successful aluminum casting solutions, especially for the transportation and truck industry. We look forward to his contributions and technical expertise to drive our Company's goals into additional markets. We are pleased to have him onboard in this important position," said David Seilkop, President of Epcor Foundry.
Miller is a graduate of Bowling Green State University with a bachelor's degree in business.
---
Lowest cost US Productions Source
American Made, Globally Trusted & Lowest cost
- Epcor Foundry is your low cost U.S. source and proud to be 100% designed, engineered, and manufactured in our Cincinnati, Ohio production facility.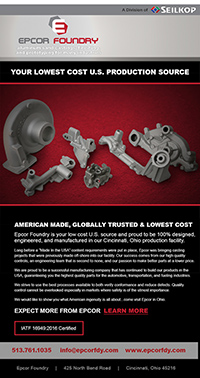 ---
IATF 16949:2006 Certified
American Made. Globally Trusted
- the automotive industry's most widely used international standards for quality management.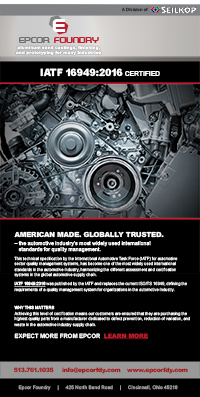 ---
Prototyping-To-Cost Savings
Epcor's prototyping services lead to substantial cost savings. Read about our process to reduce prototype costs.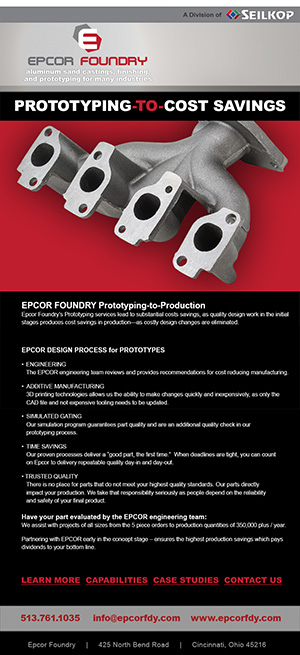 ---
Epcor's Unmatched Casting Quality
Read about Epcor's Preventative Maintenance (PM) program that focuses on prevention over detection.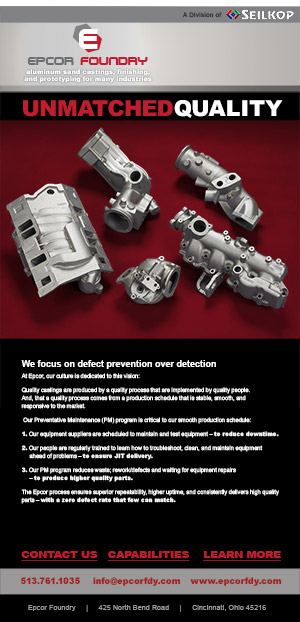 ---
Supercharged Modern Muscle Cars
Read about how Epcor designed a better performing super light and leak-free casting for high performance automobiles.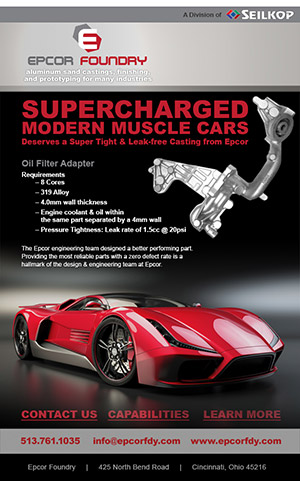 ---
Automated Processes and Why They Matter
Read about how Epcor's automated process control ensures castings are made of the highest quality.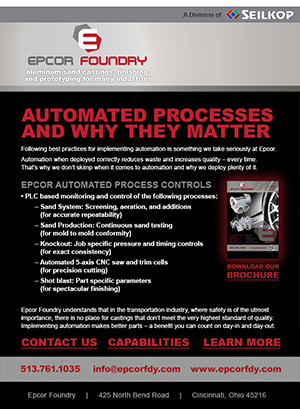 ---
Get More Than Just the Best Aluminum Castings
Read about this Tier 1 automotive challenge that Epcor solved with a new gating system which eliminated leaks and scrap.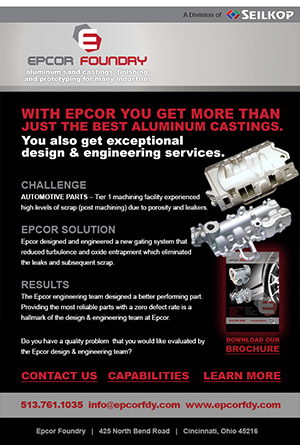 ---
This is an ideal time to reshore your castings!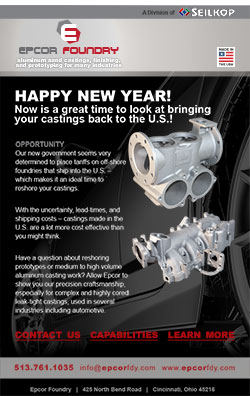 ---
Epcor Foundry Installs Schaefer Furnace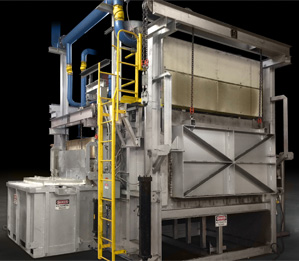 Epcor Foundry, a division of Seilkop Industries recently installed a combination dry hearth and wet bath aluminum melting furnace from The Schaefer Group.
This gas fired furnace delivers degassed and filtered metal to the casting line – which gives Epcor the cleanest metal possible. The end opposite the dry hearth has a degassing unit and a filter with two electric elements in the ladle well end of the furnace, to maintain temperature stability during production.
"The Schaefer Combination Furnace gives Epcor the ability to produce higher quality parts more efficiently," said Dave Seilkop, president of Epcor Foundry. "The unique ability of this energy saving combination furnace to also reduce metal loss with cleaner metal makes this an ideal choice for our aluminum part production," he added. Installing the best equipment means producing better products at less cost for our customers – it's that simple!
---
Accelerating Production Design, and Getting It Right
Like every "solution," this one started with a problem. An unnamed foundry supplying exhaust gas recirculation (EGR) valves to an auto parts manufacturer could not fulfill the order, and that buyer urgently needed to find an alternative source for aluminum castings. Epcor Foundries in Cincinnati was awarded the business. Then, Epcor's challenge was to get the new part into production quickly, avoiding the quality problems that the previous supplier faced.
Epcor used ESI Group's QuikCast casting simulation software to evaluate the initial mold design. They were able to identify several areas where the simulation showed porosity would be a problem. Engineers ran a series of alternative mold solutions while adding risers to feed molten metal to compensate for shrinkage in critical areas of the mold.
Click Here to read the full article.